Da Paleto Bay al porto di Los Santos, festeggiamo il luogo di nascita della libertà con lo Speciale Independence Day per Grand Theft Auto Online (in collaborazione con Ammu-Nation).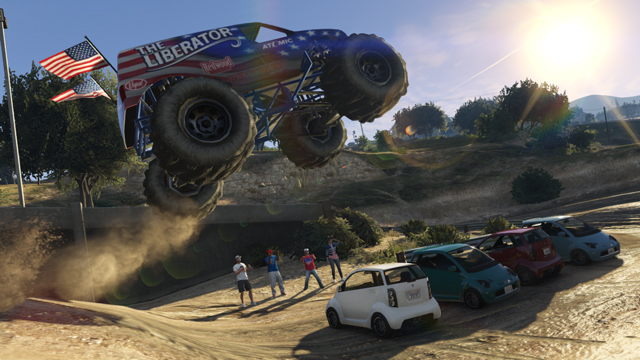 Sfoggia la tua abilità e domina la strada coast to coast con due nuovi veicoli a stelle e strisce, la motoSovereign e il colossale monster truck Liberator. Difendi i tuoi diritti alla maniera dei padri fondatori con l'ultima aggiunta alla collezione d'antichità di Ammu-Nation, il potente moschetto, oppure entra in contatto col Jack Howitzer che è in te e dacci dentro con lo spettacolare cannone pirotecnico.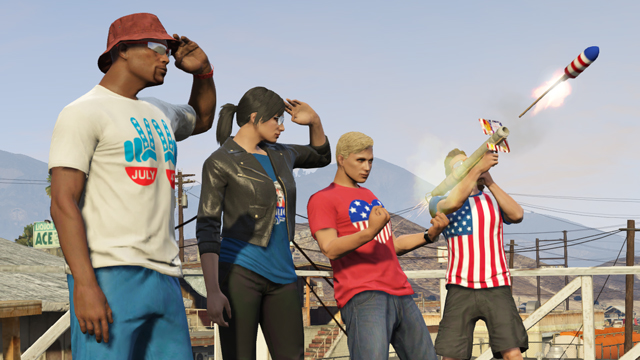 Sette nuovi immobili sono stati aggiunti al portfolio di Dynasty 8, tra cui alcune proprietà a Paleto Bay e a Vinewood Hills con ampi cortili tutti da bruciacchiare con spettacoli pirotecnici fatti in casa. Con dodici tipi di fuochi d'artificio e micce di diversa lunghezza, potrai far piangere di gioia anche i Republican Space Ranger più insensibili. Se invece preferisci intrattenimenti meno incendiari gestiti da lavoratori adolescenti al minimo salariale, per te c'è il molo dei piaceri, dove ti aspettano il Ferris Whale e il Leviathan.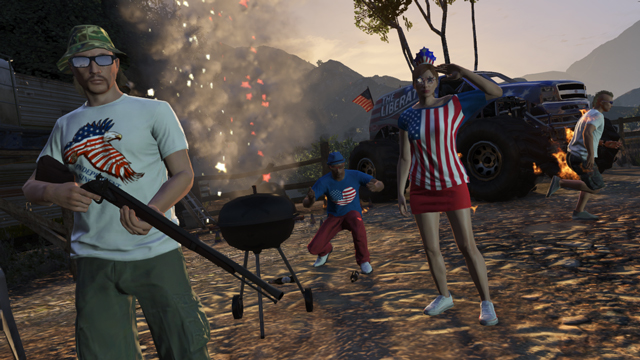 Questo aggiornamento limitato nel tempo dal piglio patriottico ti consentirà inoltre di mostrare il tuo orgoglio nazionalistico con magliette "Made in the U.S.A.", mullet di quelli che ormai non se ne vedono più e maschere di animali rappresentanti le più spaventose e maestose creature di questo grande Paese.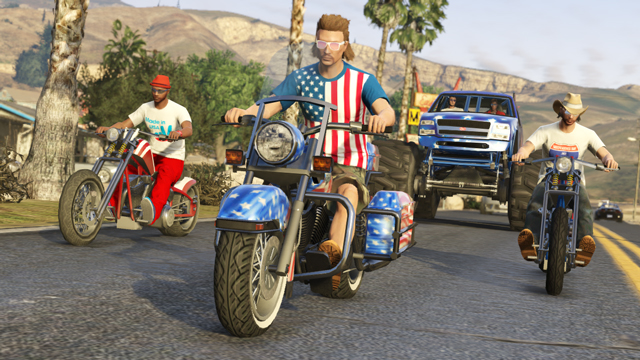 Questi speciali contenuti stagionali potranno essere riscattati nel gioco solo fino a metà luglio (annunceremo presto una data di scadenza più precisa). L'aggiornamento automatico per lo Speciale Independence Day include anche varie ottimizzazioni e migliorie, compresa la nuova funzione dimatchmaking in attesa. Questa nuova opzione permette ai giocatori di accettare un invito a un'attività e di continuare a giocare in Freemode finché non vengono occupati tutti gli slot giocatori dell'attività, riducendo i tempi d'attesa dell'avvio dell'attività. Per la lista completa di tutte le ottimizzazioni e le migliorie, visita il sito del Supporto Rockstar.
Per scaricare lo Speciale Independence Day, accendi il tuo sistema PS3 o Xbox 360 e avvia GTAV. Ti verrà chiesto di scaricare l'aggiornamento automatico (1.15). Agli utenti Xbox 360 sarà chiesto anche di scaricare un pacchetto di compatibilità aggiuntivo non appena accederanno a GTA Online.