Forbes dichiara Steve Ballmer peggior CEO americano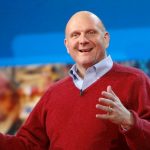 Peggior CEO fra tutte le più importanti società americane quotate in borsa. Questo è il non molto gratificante titolo che Forbes ha attribuito al Direttore di Microsoft Steve Ballmer dopo l'analisi che ha coinvolto aziende fra le più conosciute come Cisco, Sears, General Eletric e Walmart. La motivazione principale è che Ballmer avrebbe guidato la casa di Redmond fuori dagli ambiti di mercato più remunerativi sacrificando anche  la crescita ed i profitti di aziende acquisite o controllate come Nokia, Dell, Hewlett Packard. Quando Ballmer fu eletto CEO le azioni di Microsoft valevano 60$, oggi siamo sui 30 dopo un periodo in cui sono scese fino a 20$. Le previsioni di Forbes non sono positive tanto che il suo reporter Adam Hartung si spinge a fosche previsioni: se Windows 8 non otterrà i risultati previsti Microsoft potrebbe seguire lo stesso triste destino di aziende come RIM, American Airlines e Best Buy che si stanno dibattendo in crisi delle quali non si vede via d'uscita.
Forbes names Steve Ballmer worst american CEO
Worst CEOs of all the major U.S. traded companies. This is not very rewarding title that Forbes has given to Microsoft' CEO Steve Ballmer after analysis that involved some of the most important american companies such as Cisco, Sears, Walmart and General Electric. Main reason is that Ballmer would lead the Redmond house outside the most lucrative market sacrificing the growth and profits of companies acquired or controlled such as Nokia, Dell, HewlettPackard. When Ballmer began his role as CEO of Microsoft, shares were worth $ 60, today they are about 30 after theythey dropped to $ 20 for a couple of months. The forecasts of Forbes are not so positive just that its reporter Adam Hartung goes to dire predictions: if Windows 8  will not get the expected results, Microsoft may follow the same sad fate of companies like RIM, American Airlines and Best Buy that are debating on terrible crisis without to see a way out.