Sony Ericsson potrebbe presentare il suo dispositivo Windows Phone 7
Non potete immaginare quanto mi faccia piacere redigere questo articolo: si basa, infatti, sulla segnalazione di qualcuno a cui sono particolarmente legato e a cui voglio un gran bene: si tratta infatti di Emanuele (aka  Bruschetta) il figlio del mitico Spippo, moderatore del nostro Forum che, come il grande papà, è pervaso dalla passione per gli smartphone, soprattutto quelli Android. La sua segnalazione, però, non riguarda il robottino verde ma Windows Phone 7 ed, in particolare, di un dispositivo Sony Ericsson che, come sappiamo, è l'unica fra le più importanti case produttrici a non aver mai presentato un dispositivo basato sull'OS di Redmond. Le foto che il nostro Bruschetta ci indica, mostrano un dispositivo con tastiera QWERTY che ricorda nel form-factor l'Xperia Play. La versione del sistema operativo sembra essere ancora NoDo (la seconda in ordine di tempo dalla nascita dell'OS Microsoft) che dimostrerebbe che il dispositivo non sarebbe nuovissimo; resta da capire se Sony Ericsson ha abbandonato il progetto o sta aspettando il rilascio di Tango per lanciare, finalmente, il suo primo dispositivo Windows Phone. Dopo il break la foto gallery.
Grazie Bruschetta per la segnalazione (ti abbraccio forte).

Sony Ericsson could present its Windows Phone 7 device
You can not imagine how pleased I am writing this article: it is, in fact, based on the reporting of someone who is very important for me: he is Emanuele (aka Bruschetta) son of the legendary Spippo, moderator of our Forum; Emanuele, as the great father, is pervaded by a passion for smartphones, especially Android. His report, however, does not affect the green robot but Windows Phone 7 and, in particular, a Sony Ericsson device that, as we know, is the only one of the most important manufacturers that never presented a device based on Redmond's OS. The picture shown us from our Bruschetta, show a device with QWERTY keyboard and with a similar Xperia Play form-factor. The version of the operating system seems to be still NoDo (the second in order of time since the birth of the OS Microsoft) that shows that the device would not be new; it remains to understand if Sony Ericsson has abandoned the project or it is waiting for the release of Tango to launch, finally, its first Windows Phone device. Below photo gallery.
Thanks for reporting Bruschetta (i hug you).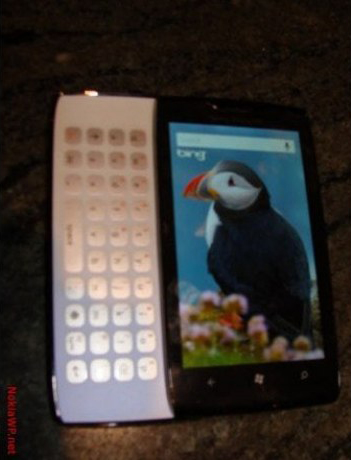 SOURCE